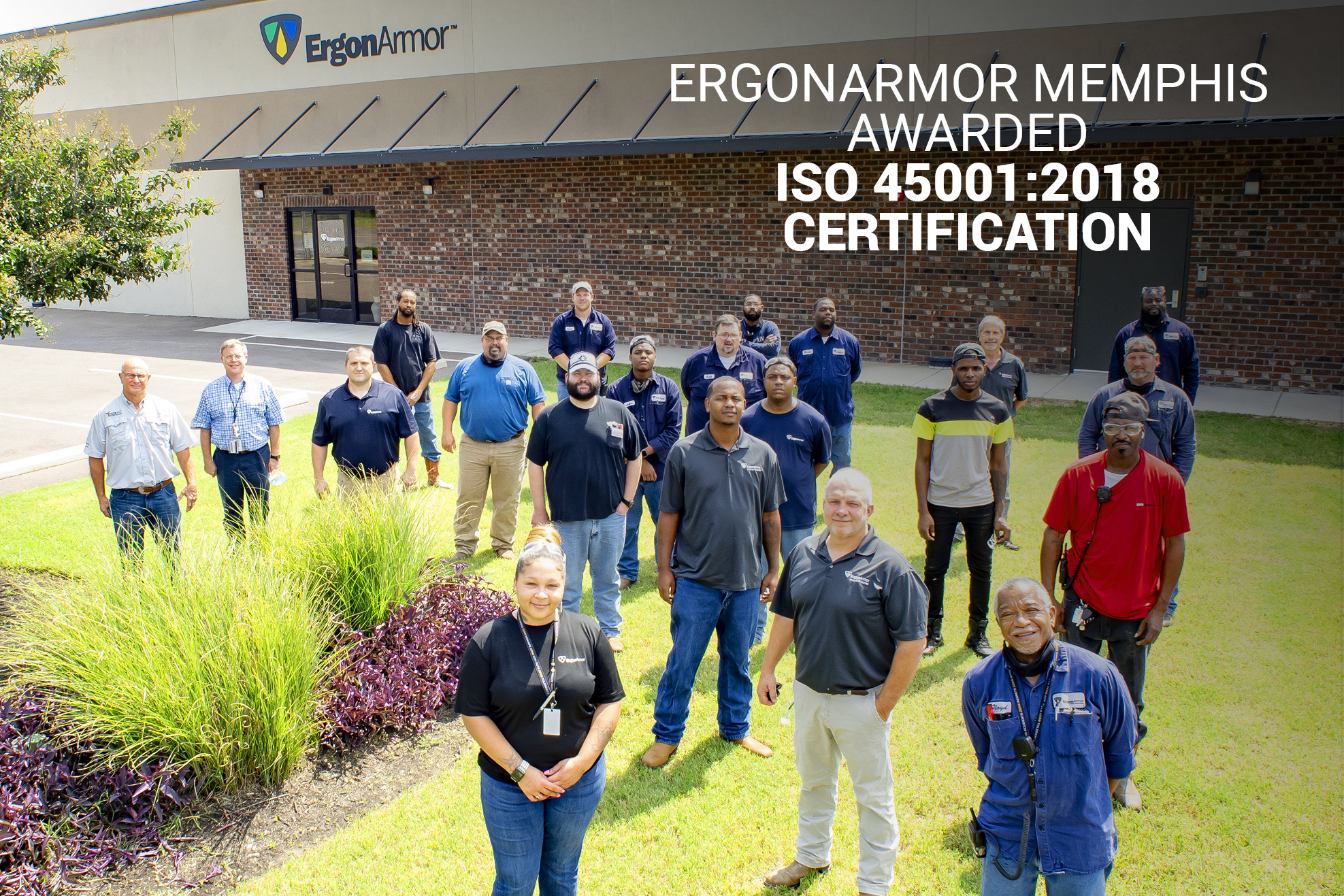 ErgonArmor is pleased to announce that the company's Memphis facility, which manufactures corrosion and surface protection solutions for a wide variety of industrial marketplace applications, has certified its safety management system to the requirements of ISO 45001:2018.
ISO 45001:2018 is a globally recognized occupational health and safety standard developed and published by the International Organization of Standardization (ISO). ISO developed this standard to help organizations improve employee safety, reduce workplace risks, and create safer working conditions. This new standard, along with the facility's existing ISO 9001 Quality Management System, completes a 2020 business plan goal to integrate the two management systems. Compliance with this standard is also planned for the ErgonArmor Kansas City facility.
"This is a significant achievement by the employees of ErgonArmor Memphis," said Johnny Pyles, Vice President-Operations. "A lot of hard work, long hours and many discussions with multiple Ergon groups — including the Business Process Management and Environmental, Health & Safety Departments, along with our third-party consultant at QHSE Advantage LLC — helped to make this possible. This achievement demonstrates that safety is the most important part of the ErgonArmor culture and provides us a tool to manage and continually improve safety in our facilities."
"I am proud of our organization for taking on and accomplishing this important objective," said David Brackins, Senior Vice President and General Manager. "I consider safety to be the most important aspect of our jobs and this certification demonstrates our Memphis team's commitment to excellence."
ErgonArmor is the first organization at Ergon to receive the ISO 45001:2018 Occupational Health and Safety Management certification. This certification was issued by ABS Quality Evaluations and represents a firm commitment to apply the best practices in occupational health and safety.
About ErgonArmor
A division of Ergon Asphalt & Emulsions and part of the Ergon companies, ErgonArmor provides corrosion and surface protection solutions for a variety of industrial marketplace applications. Industries served include additives and raw materials; building construction and materials; food, beverage and pharmaceutical; industrial maintenance; infrastructure; petrochemical; power; transportation; and commercial roofing.