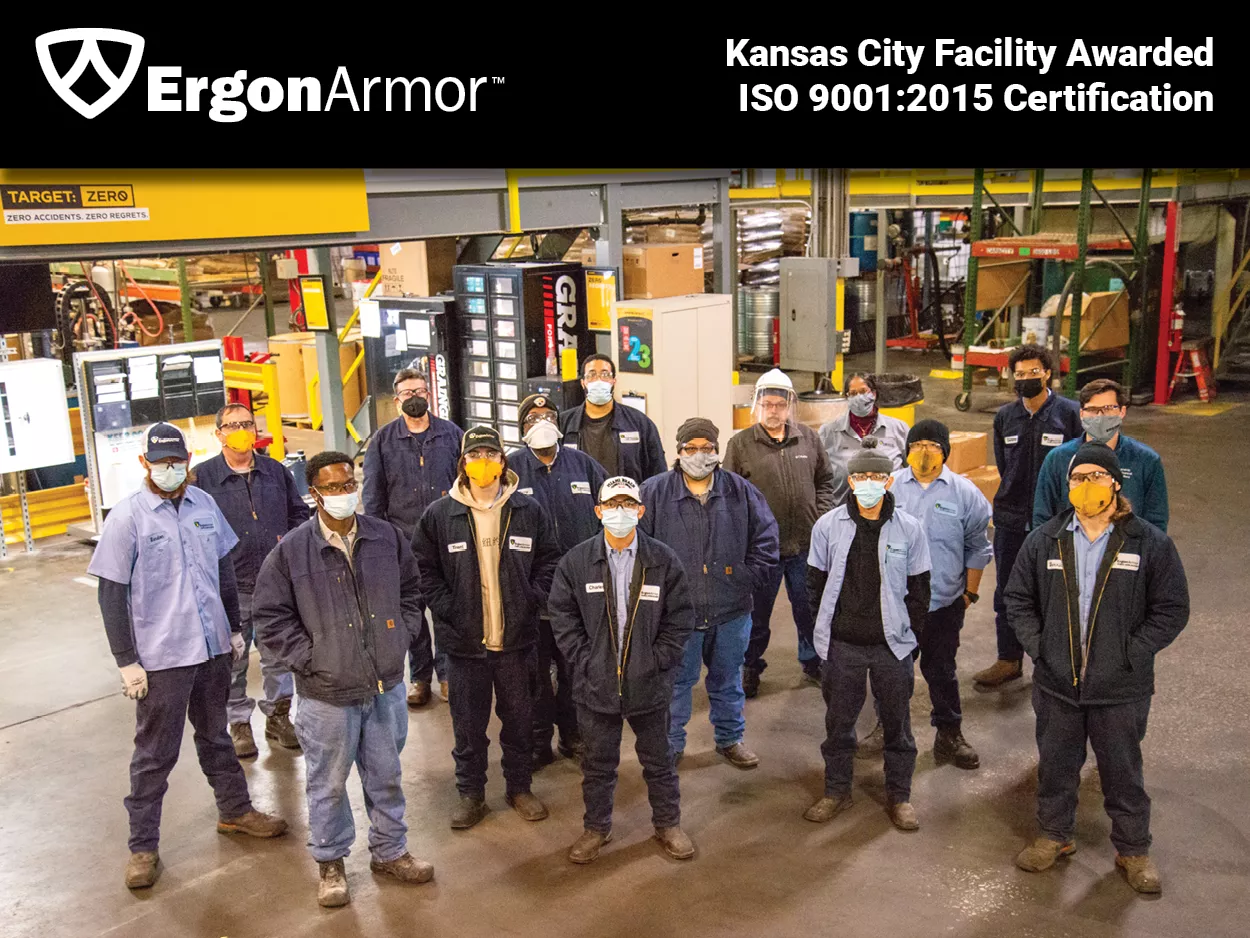 ErgonArmor is pleased to announce that the division's Kansas City, Kansas, facility recently received certification of compliance with ISO 9001:2015 standards for quality management systems. ErgonArmor Kansas City (EAKC) predominantly manufactures solvated asphalt cutbacks used in a variety of adhesive and sealant applications, from foundation waterproofing to commercial roofing, products sold under its own Blackhawk™, Tufchem™, and Pennguard™ brands as well as its customers' private labels.
ISO 9001:2015 is a globally recognized standard dedicated to quality management systems. It outlines a framework for improving quality in the most efficient manner and provides guidance for any organization looking to supply products and services that consistently meet the requirements and expectations of customers and other relevant interested parties. Attaining certification to this standard completes a business plan goal for the site.
"I am very pleased and proud of our Kansas City team's achievement of this ISO 9001 certification," said Johnny Pyles, Vice President of Operations. "This was truly a team effort, not only within the ErgonArmor Kansas City facility but also with our Memphis team, Business Process Management Department team and our consulting group, QHSE Advantage. These groups spent many hours working on the numerous quality management system components at the plant to ensure that EAKC would be successful during their Stage 1 & Stage 2 certification audits. Not only did they receive this certification, but they did not receive any non-conformances or other issues of note."
"This certification adds to the existing ISO 9001 certification ErgonArmor holds at its other site in Memphis, Tennessee," added David Brackins, Senior Vice President and General Manager. "For both sites, the certification assures that our procedures, processes, training and quality are frequently reviewed for continuous improvement and audited by a certified third party."
About ErgonArmor
A division of Ergon Asphalt & Emulsions and part of the Ergon companies, ErgonArmor provides corrosion and surface protection solutions for a variety of industrial marketplace applications. Industries served include additives and raw materials; building construction and materials; food, beverage and pharmaceutical; industrial maintenance; infrastructure; petrochemical; power; transportation; and commercial roofing.