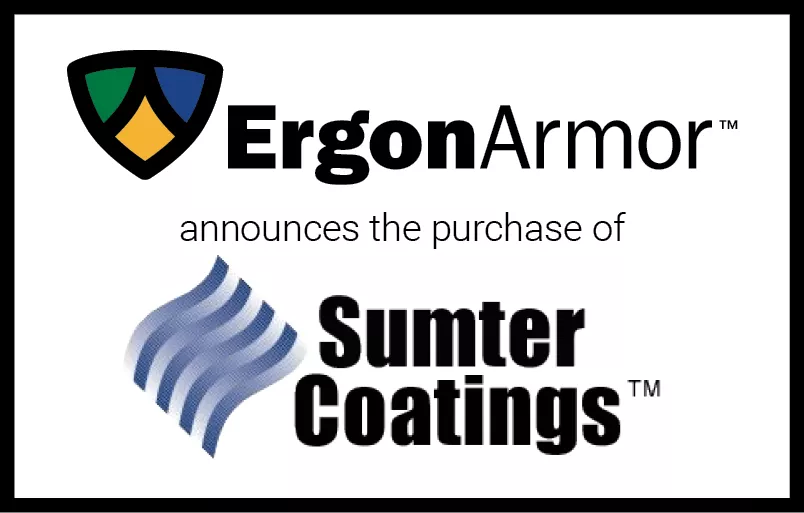 March 3, 2022
ErgonArmor Expands Industrial Coatings Line Through Purchase of Sumter Coatings
FLOWOOD, Miss. —Ergon Asphalt & Emulsions Inc. has purchased Sumter Coatings Inc., which will be a part of the company's ErgonArmor division. A leader in the paint and coatings industry since its founding in 1996, Sumter Coatings serves structural steel fabricators; industrial finishes; and maintenance, repair and operations (MRO) markets.
Headquartered in Sumter, South Carolina, the company produces enamel, urethane, alkyd and epoxy primers and coatings under its Metal Master, Topkote and other brands, as well as customers' labels. Sumter Coatings also provides formulating and contract manufacturing services.
"We are excited about the opportunities to support Sumter Coatings' growth and to bring a broader range of industrial coating products to ErgonArmor customers," commented Christine Osborne, Vice President – Sales and Marketing for ErgonArmor. "Sumter Coatings' formulating and production capabilities complement ErgonArmor's capabilities beautifully."
Sumter Coatings' ability to process lower flash-point chemicals in their South Carolina facility will expand upon current capabilities at ErgonArmor's Kansas City, Kansas, and Memphis, Tennessee, production facilities.
"In addition to introducing Sumter Coatings products to our industrial and private label customers, we plan to develop new solvented products to expand ErgonArmor's product range for industrial construction, maintenance and repair applications," said David Brackins, Senior Vice President & General Manager of ErgonArmor. "We have been impressed by the passion the Sumter Coatings employees have for serving customers and protecting the company's legacy for their community, and I am excited about having their team join the Ergon family."
About ErgonArmor
ErgonArmor provides engineered surface protection systems for a wide variety of industrial marketplace applications through its Blackhawk™, Corrosion Engineering™, Ertech™ and Novocoat™ lines. ErgonArmor is a division of Ergon Asphalt & Emulsions Inc., the largest asphalt emulsion marketer in North America and a pioneer in pavement preservation.
Contact
Kathy Potts
Vice President – Marketing Communications
Ergon Inc.
601-933-3000
kathy.potts@ergon.com